A free community event at Stiggants Reserve, Warrandyte on Sunday 19 November 2023 – a day of jazz with multiple bands, food, coffee, wine and beer.
Please like our Facebook page to spread the word.
Or to get a poster or small flyer suitable for printing, get the file.
At CMaP, we love to run low-cost and free community events but they are costly! So, if you are able to support CMaP, please make a donation.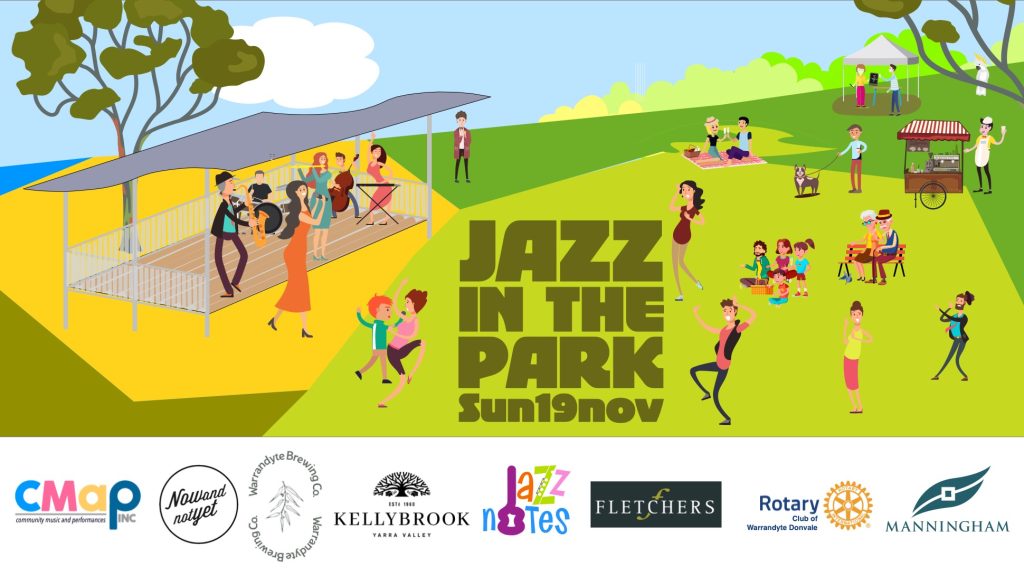 Stiggants Reserve
45-55 Yarra Rd
Warrandyte 3113
Commencing 1:30pm
Concluding 6:00pm

Programme
1:30 Simple Syncopation
2:30 Caught In The Act!
3:30 Pippa Wilson
4:30 Manningham Concert Band
Details below
Details of bands
Students in Year 11 and 12.
Caught in the Act! plays an exciting style of Upbeat Latin Jazz with a hint of fusion. Something that you'll just want to get up and groove along to.

Their repertoire ranges from smooth, funky jazz to fast up-beat Latin tunes with energised rhythm: always making for a fun gig – full of energy!

You can purchase a CD or USB card of Caught In The Act! Released in 2023, 'Pretty Eyes' is available now and at most Jazz Notes events.

This band originally formed as a festival band but has been increasingly busy in recent years. During 2020 and 2021, lockdowns got in the way of many gigs, but in the brief gaps between those lockdowns, CITA grabbed opportunities to refine their cool repertoire, make some recordings and they performed at the Newport Jazz Festival, the Phillip Island Jazz Club, Britannia Mall, Croydon Town Square, and as the feature band at Melbourne Music Performers' monthly event at the Ringwood RSL.

Caught in the Act! will bring you lively and energetic Latin music, modern funky jazz and some favourite jazz standards. All with new and interesting arrangements.
Pippa Wilson, Melbourne's classy lady of jazz has been entertaining audiences in Melbourne, interstate and overseas for many years.

In the last few years, Pippa has been working with Jazz Notes to great responses:
'Just love Pippa singing with Jazz Notes! They are just a perfect fit!' (Jenny)
'Terrific – great. Loved everything.' (Bev)
'I'm not sure who enjoyed it more, the band or the audience!!' (Pippa)

Pippa Wilson with Jazz Notes has performed at the Frankston Arts Centre, Sunshine Coast Jazz Club, the Victorian Jazz Club, the Inverloch, Castlemaine and Port Fairy Jazz Festivals and many other events.

Our combination gives Pippa a chance to shine, stripping the sound back and allowing our audience to get close and personal to this lovely lady.

There'll be cool jazz, jazz-inspired pop, Latin and some surprises; of course, Pippa will still belt out some of her crowd-pleasers so there'll be something to suit everyone's taste.
The Manningham Concert Band has been performing in the municipality for the last 49 years. Comprising wind, brass & percussion instruments, they play a wide variety of music including swing, rag, film soundtracks, classical, contemporary and original band literature.

For the past 27 years, the group has been conducted by their Musical Director, Andrew van Gemert.
Our sponsors
Manningham Council
This project is proudly supported by Manningham Council's Community Grants Program.
We are most grateful for the funding and the tremendous support that has been afforded us by the Manningham Council officers.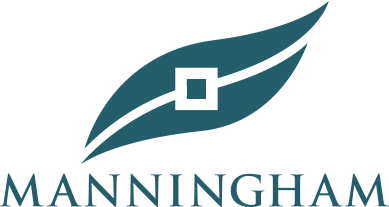 Rotary Club of Warrandyte/Donvale

Jazz Notes
Live jazz music with vocal and instrumental bands, large and small. And organising events.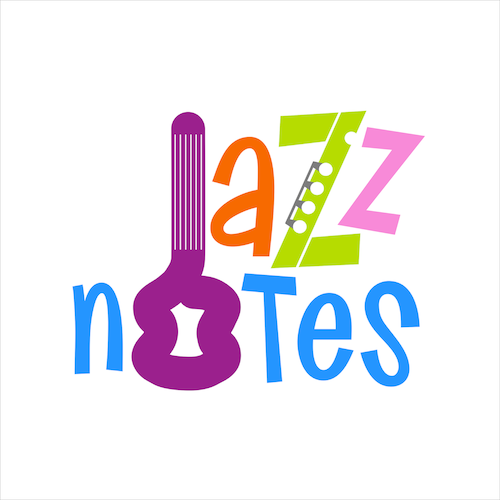 Food and drinks
Food and drinks will be provided by the Warrandyte Brewing Company, Kellybrook Winery and Now And Not Yet.
Now ANd Not Yet
More than just a café… all profits go to the Warrandyte community.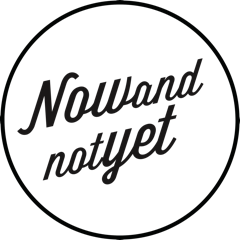 Kellybrook Winery
Kellybrook has been producing award winning wines and ciders for over 50 years at their Wonga Park winery – a hidden oasis at the gateway to the Yarra Valley.

Warrandyte Brewing Co. is locally owned by husband-and-wife team David and Bianca. It's Warrandyte's beauty and the sense of place that comes with a walk along the banks of the Yarra that spurred the launch of Warrandyte Brewing Co late in 2021.

Our passion for the craft beer world grew whilst we were living abroad in Calgary, Canada. With so many unique breweries in the city there was one commonality we noticed – the sense of community and how these places brought everyone together; from craft beer lovers, locals, out of towners to families and even four legged fury friends. We knew we had to bring these tastes and experiences from Calgary back home and combine them with everything we love about Warrandyte and the surrounding community.

We currently gypsy brew our sessional craft beers at other local Melbourne breweries. Our plan is to find a space in Warrandyte where that sense of community we felt in Calgary could be brought to life at our own venue, serving tasty beer and good food. We're currently on the hunt for a place to call home for WBco. and we're looking forward to having you all on this journey with us.

In the meantime, keep enjoying our beers, which you can find in the fridge at your local bottle shop or venue.
Click the name (above) for even more information
Warrandyte Brewing Co. was established in 2021 by wife and husband duo, Bianca & David. Their goal is to provide a space that the community can use to catch up, socialise and drink good beer, all while having a positive impact on the local community.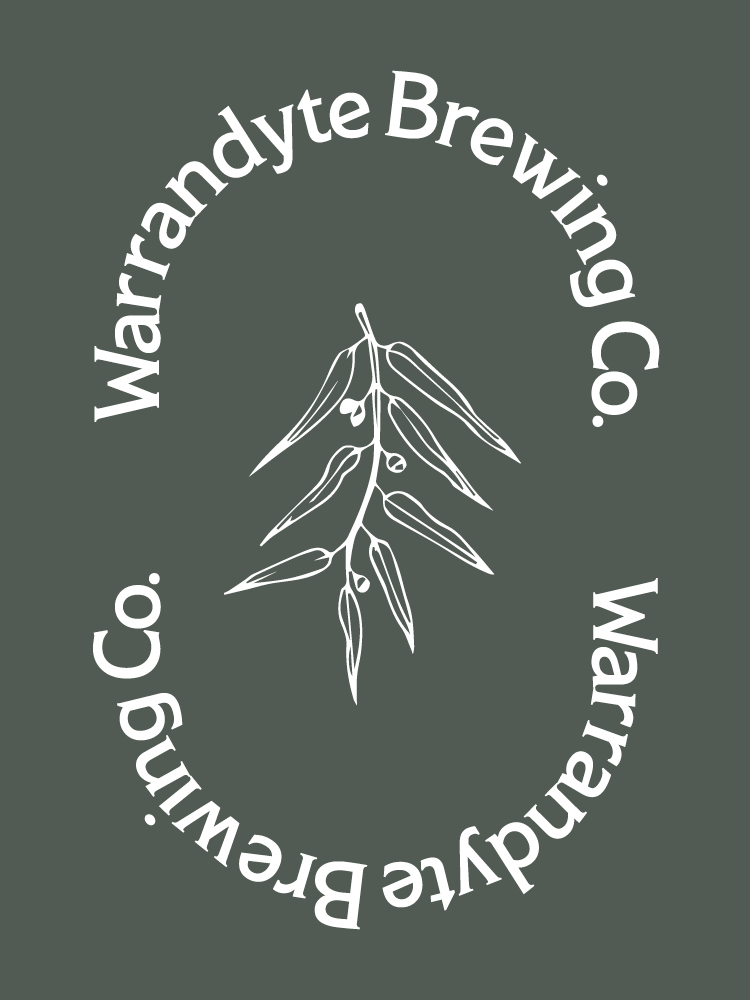 Fletchers real estate
Our thanks to Fletchers for providing billboard advertising.

About Stiggants Reserve
How to get to Stiggants Reserve
Jazz at the Lake will be held in Stiggants Reserve, Yarra Street, Warrandyte, 30kms north-east of the city.
Driving
Stiggants Reserve is located at the corner of Stiggants St and Yarra St, Warrandyte.

During the day, street parking is free but may be limited in the streets surrounding Stiggants Reserve.
Parking inspectors often check the area so please park in designated parking spaces only.
Permit parking areas are strictly reserved for permit holders only and permits must be displayed at all times.
We encourage you to car pool, walk, ride or take public transport.
Public Transport – Bus
From the City: Bus 906 to Everard Dr/Yarra St, Warrandyte. Then walk 100m.
From Ringwood Station: Bus 364 to Trezise St/Yarra St, Warrandyte. Then walk 200m.
From Eltham Station: Bus 578 or 579 to Trezise St/Yarra St, Warrandyte. Then walk 200m.
Toilets
There are toilets (including disabled) in the park, near the small car park, 50m down the hill from the stage area.
Get the poster
Download this link to get a file suitable for printing.